Filing Systems
Control the Paper Flow
Organizations always have a need to record their communications. Creating a Filing System that can support your business, is as important as the Office Layout or Space Planning required to ensure efficient flow of such records, without cluttering workspaces. A good filing system will put you back in control, enhance your professional image and increase productivity, by helping you find relevant correspondence.
According to Susan Silver (Organized To Be The Best!, Adams Hall Publishers, 1995), when it comes to files and piles, people have three fears. Do any of these sound familiar?
Afraid to make a decision (where to file it). If it doesn't have a name, it doesn't get a home & collect in unnamed stacks, piles, drawers and in-boxes.
Afraid to discard anything. Heaven forbid you should throw anything out – you might need it someday.
Afraid you'll never see it again. Filing an item in some systems is like flinging it into a black hole.
CA Office Design, believes that Filing Cabinets are one of the best tools in maintaining an organized and efficient office space at your business. Not long ago, your choices in filing cabinets were limited to two or four drawers and black or grey. Today, there are countless sizes, colors, materials and other options to find just the right filing cabinet.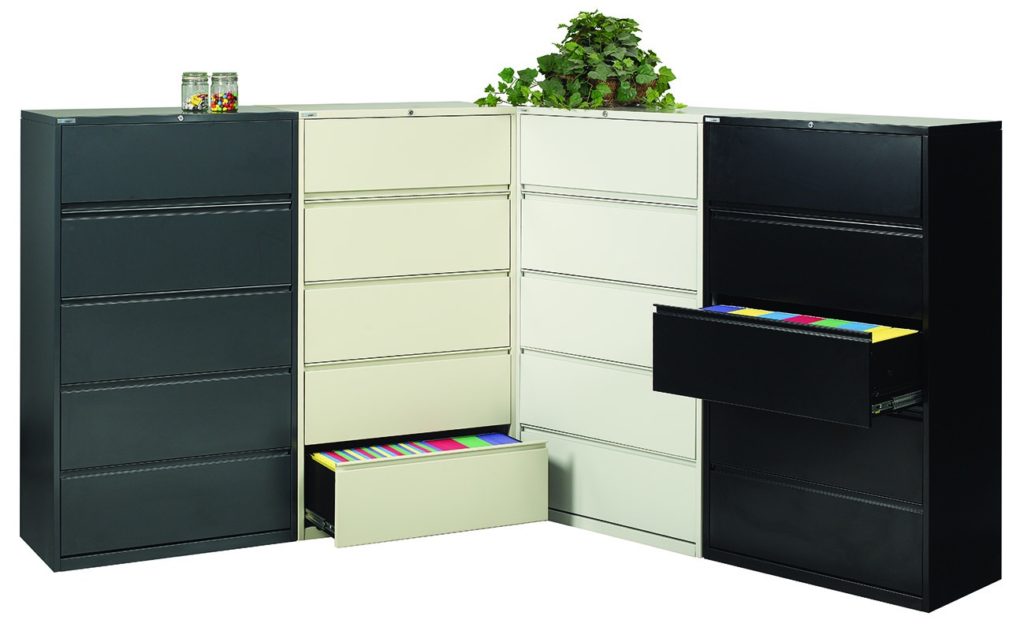 The more traditional of the options are generally 28″ deep but take up little width (15″), as they are only as wide as a vertical folder and range from a 2 drawer to 5 drawer filing cabinet.
The typical office vertical file cabinet 28½ inches deep and the drawer holds 27 inches of files.
Shallower cabinets are also made: 26½-inch deep cabinets with 25″ drawer depth, 25″ deep cabinets with 23½-inch drawers. Naive buyers shopping for price often inadvertently compare units with shallow and deep drawers.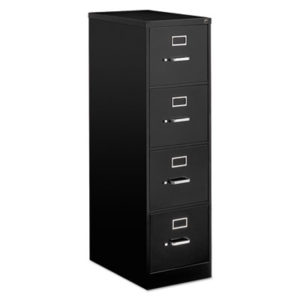 Horizontal Filing Cabinets or Flat Files
Ideal for storing large sheets of paper such as blueprints, drawings and sketches.
They vary greatly in depth and width – depending on the size of the drawings you need to store.

36″W x 24″D
42″W x 30″D
48″W x 36″D

They are available in either 5 Drawer or 10 Drawer options, both units accommodating 1,000 documents each.
Colors: Black, Light Grey & Putty
Quality of Filing Cabinets
There are three main areas you need to consider when checking the quality of a filing cabinet:
Suspension – One of the most important aspects to consider is the suspension. If the suspension is flimsy, as in many cheap file cabinets, the drawers will not open and shut properly once they have files in the drawers.
Durability – You should also examine the durability. High quality filing cabinets are made of reinforced steel, which will ensure protection of important files.
Safety Features – There are a variety of features that can be utilized to ensure safety in your home, office and workplace. Be sure to check for the following:

Anti-tipping features that does not allow multiple drawers to be opened at one time.
Counter weighted drawers, locking mechanisms that allow only one drawer to be open at a time, and drawers that open smoothly even when heavily loaded.
Wooden Filing Cabinets
Wooden file cabinets are usually the top choice for home office furniture or executive offices. Wooden options will give you a warm ambiance and will look more like room decor and less like a storage system. You can normally choose from Mahogany, Cherry, Espresso, Urban Walnut & Slate Grey. See some of  CA Office Design's Case Goods options hereby.
With metal or steel filing cabinets, function comes before style. Ask yourself if you need 2, 3, 4 or 5 drawer Lateral Files, Vertical Files or Flat Files. Consider the office space you have to work with and think about whether lateral or vertical units will meet your needs. Do you need a small filing cabinet or does it need to be mobile with rolling wheels? Maybe stationary units meet your needs. What level of security is needed? What type of locks do you need to protect your files? When you decide on the function of your filing cabinet, then you can consider your color. Generally metal options come in gray, black, white, charcoal or putty.
Metal options are recommended by CA Office Design.
They are considered to be more sturdy and durable than other materials.
Metal units are also lockable and offer safety features such as anti-tipping features, counter weighted drawers, and drawers that open smoothly even when heavily loaded.
The OSP Metal Filing Range offered by CA Office Design,  incorporates a special type of lightweight metal that helps eliminate issues people have when trying to move these units. Metal Pedestals can also be made mobile by incorporating rolling wheels.
Fireproof Filing Cabinets
You should consider fireproof filing cabinets as an option in storage for irreplaceable documents. Look for units that are certified to perform vigorous fireproof qualities. These units are tested to sustain temperatures of 1700°F (926°C) for one full hour without the internal temperature exceeding 350°F (176°C). If you need fireproof protection for fragile media such as disks, electronic storage, and tape, you need a filing cabinet that will withstand heat without the internal temperature exceeding 125°F (52°C). Fireproof units also come with durable locks to keep important files protected.
Most wooden and metal filing cabinets weigh between 30 and 200 pounds. A fireproof filing cabinet can weigh between 300 and 1,200 pounds depending on its size, which is why a fireproof filing cabinet is generally used for commercial and industrial purposes. Because of their weight, they are nearly immovable unless done so mechanically. The difference in weight is an indicator of how much more sturdy and durable a fire proof filing cabinet is as compared to wood or metal options.
Fireproof units can withstand fire because they are built with several inches of reinforced steel, which is also why they are so heavy. Fireproof reinforced steel units can generally withstand between 1 and 2 hours of fire heat, which may seem excessive but perhaps not when they are your documents that need to be protected. There is never a guarantee that fire fighters will be able to extinguish a fire quickly.
Design Philosophy of CA Office Design
CA Office Design is the Leading Space Planner in Southern California. We ensure that each design is uniquely tailored to your own requirements. We work with you to create an office space plan that fits your personnel and budget requirements. This will create the "roadmap" for an easy transition to a new area. We work with your architects, using the same AutoCAD Design drawings to ensure accuracy of design.
We are always mindful that our Office or Cubicle Designs ensure the interaction of the human body with the surrounding environment, in order to achieve a balance between the workplace design and the human physical demands. By applying basic Ergonomic Design Principles, combined with the latest available Ergonomic Office Equipment and Storage Units, we aim to achieve the suitability of an Ergonomic Office Design to the varying needs of the employees that it facilitates.
To see how we can help you improve your ergonomic office environment in Southern California, please contact CA Office Design for a free consultation.