Collaborative Training Room Layouts & Table Styles
Training Room Layouts
CA Office Design believes that a stimulating Training Environment will create a competitive advantage for your business. The design & layout of your Training Room is key to the success of your staff training and will add value to your business. Furniture arrangement is dependent on:
The space available
The size of the audience
The training style, level of participation and interaction required
There are many ways to set up a training room for a workshop. Different set-ups allow for different types of learning. To maximize the participation, consider how the room set-up will allow for interaction and learning.
Square Training Layout or Block Training Layout
Setting up the tables to create a large square (or rectangle) is ideal for truly interactive meetings, where everyone is involved in a single conversation or a series of short presentations from other participants which do not require a screen and projector. The square training layout and block training layout are great for collaborative and interactive events.
Conference Training Layout
Setting up the tables to create a large U shape or horseshoe conference training layout, allows all participants to be able to see the presenter at all times. This training room layout is great for interaction, or when an instructor is demonstrating a process or is using visual aids. The tables provide a writing surface for note taking. Handouts can be easily distributed and breaking the group into pairs or dividing the participants into 2 large groups can be facilitated with this set-up.
Board Room Training Layout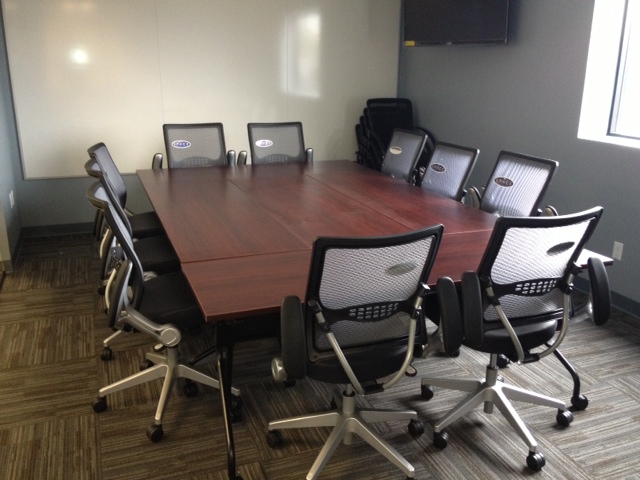 Placing rectangular tables up against each other to create a large rectangular table and then arranging the seats around the perimeter is called a boardroom training room. This set up is ideal for a smaller group, or when the participants need to act as one group to make decisions and discuss content. The facilitator can be placed at one end or in the middle of the longer side.
Classroom Training Layout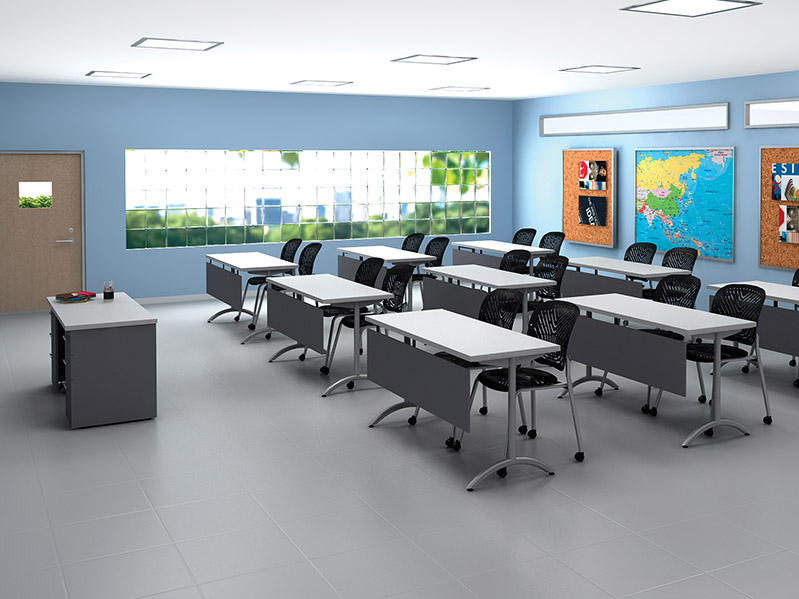 This tried and tested classroom training layout has its advantages if the participants will be doing individual work or work in pairs. Arrange training tables in a row with 2 seats per table or create long rows of tables with chairs on one side of the row facing the presenter.
It is important to realize, that when you run your meeting or training event, it's not just the training room layout that is important, it's about matching the room layout with the trainer's style. The room shape, design and style of furniture can make or break an event.
Training Table Styles
The type of Training Tables that you select, influences your ability to shift fluidly between the various Training Room Layouts that you require. CA Office Design recommends the following styles of Training Tables to ensure maximum flexibility in your Training Room:
Allows for quick setup, change, relocation & storage.
Easily converts from classroom to conference to collaborative settings.
Flip mechanism can be activated from either end of the table and locks into vertical and horizontal positions.
Locking casters included.
Decorative modesty panel standard.
For reference – see the Flip Top Training Table Product Video below:
Finishing Options:
Slate Grey, Urban Walnut, Cherry, Mahogany, Maple, White or Grey Laminate Tops.
Black, White or Titanium Finish Frames
Multi-Purpose Training Tables
Modular components allow for flexibility & quick setup.
Easily convert from classroom to conference to collaborative settings.
Choose T-Arc or Post Legs with levelers.
Locking casters can be added.
Offers decorative modesty panels as an option
Finishing Options:
Mahogany or Grey Laminate Tops
Black or Metallic Finish Frames
Post Legs or Arch Legs
CA Office Design believes that the success of your Staff Training, will not only depend on the preparation that you do, but also the set-up, style and type of furniture that you use for the meetings. We encourage collaboration in an open and interactive training environment. Feel free to contact us to assist you with the Layout, Design & Specifications of your Training Room.
Design Philosophy of CA Office Design
CA Office Design is the Leading Space Planner in Southern California. We ensure that each design is uniquely tailored to your own requirements. We work with you to create an office space plan that fits your personnel and budget requirements. This will create the "roadmap" for an easy transition to a new area. We work with your architects, using the same AutoCAD Design drawings to ensure accuracy of design.
We are always mindful that our Training Room, Office or Cubicle Designs ensure the interaction of the human body with the surrounding environment, in order to achieve a balance between the workplace design and the human physical demands. By applying basic Ergonomic Design Principles, combined with the latest available Ergonomic Office Equipment & Training Tables, we aim to optimize the suitability of an Ergonomic Office or Training Room Design to the varying needs of the employees that it facilitates – including a stimulating Training environment.
To see how we can help you improve your ergonomic office environment in Southern California, please contact CA Office Design for a free consultation.